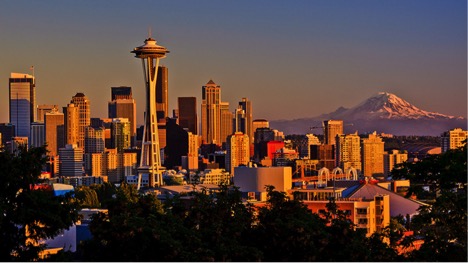 Seattle makes me proud. The people are top-notch, the scenery is breathtakingly spectacular and the businesses are stellar. Some of the most amazing, often world-changing, companies started here, including Microsoft Corporation, Boeing, Amazon, Expedia, Starbucks, Alaska Airlines and REI. I have used products and services from each of them, many times. Other impressive ones have, at some point, moved their headquarters here, such as Holland America Line.  And new businesses are following in their footsteps—companies that focus on space, robotics, exploration and virtual reality.

Entrepreneurs all over the Seattle region fight the good fight every day to build their businesses and battle challenges. Some have struggled for years and keep going, unwilling to give up. The city is oozing with new ideas and passion.
Even though I have traveled the world more than most people I know, Seattle has been my home since I was a little girl. In his compelling new book, "The Road to Character," David Brooks writes, "Pride is the central vice." He is a smart man and is likely right in his assessment. Pride has taken down relationships, businesses, cities and even countries.
But I am proud of Seattle. And proud to be a Seattleite. The city has a vibrancy that is immensely exciting.